Archaeology Month 2017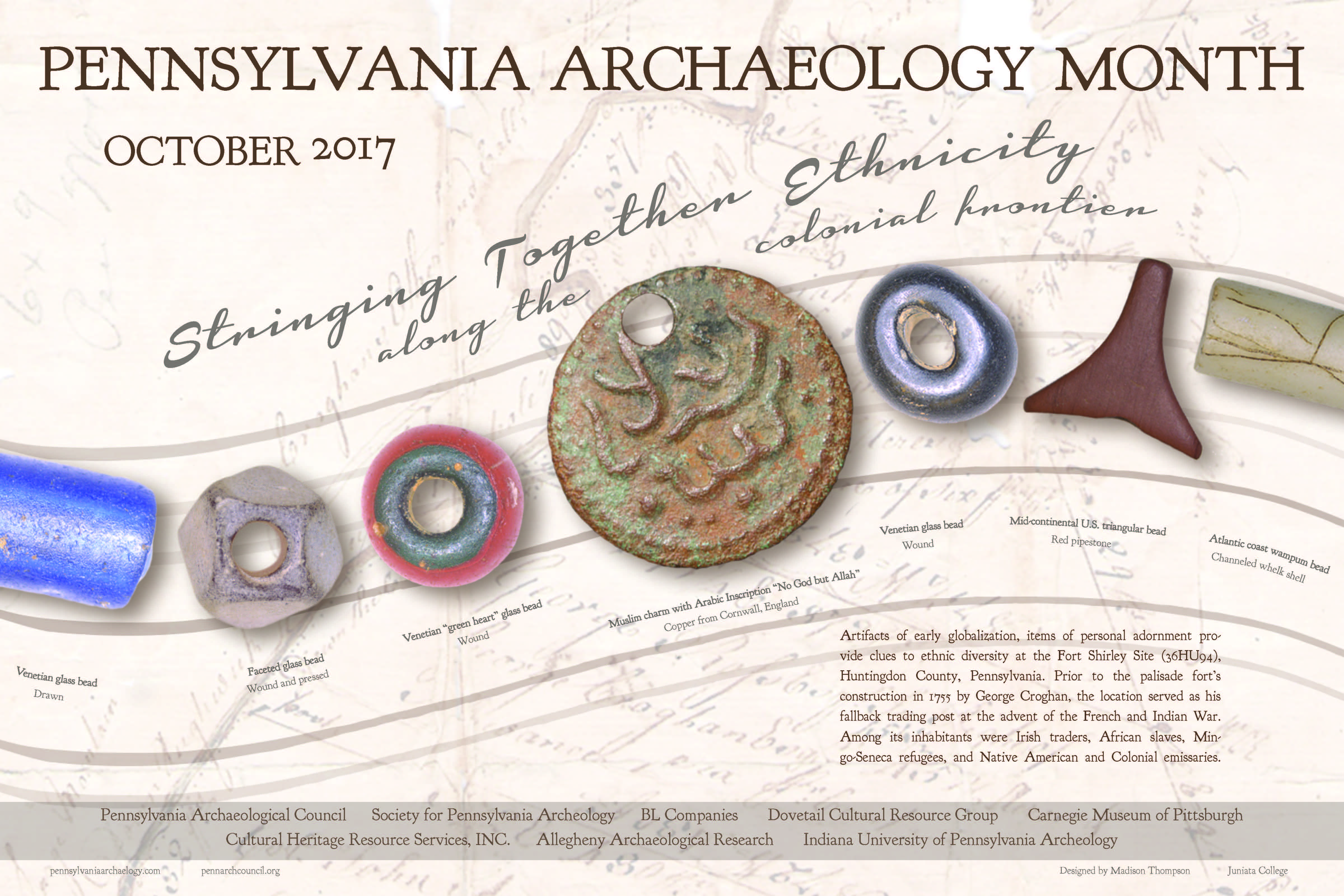 SAVE THE PAST FOR THE FUTURE
Archaeology Month is sponsored by the Pennsylvania Historical and Museum Commission, the Society for Pennsylvania Archaeology, Inc., and the Pennsylvania Archaeological Council. Its purpose is to increase awareness of the important historic and prehistoric archaeological sites in the Commonwealth. These sites are part of the heritage of all Pennsylvanians. Everyday, archaeological sites are destroyed. We hope that through the Archaeology Month events, more Pennsylvanians become aware of this part of our history and work to protect our endangered resources.
Unless otherwise noted, all events are free and open to the public.
Second Annual Workshop in Archaeology
Experimental Archaeology: How we know what we know
Saturday, October 7, 2017
Meadowcroft Rockshelter and Historic Village, Avella

Arkhaios Cultural Heritage and Archaeology Conference and Film Festival. Pittsburgh, PA, October 27-28, 2017
2017 Annual Workshops in Archaeology October 28, 2017 at The State Museum of Pennsylvania in Harrisburg, PA. The theme is Ethnicity in the Archaeological Record.
Immigration, ethnicity, and multi-culturalism are significant issues in contemporary American society. Archaeologists can examine these issues through the recovery and analysis of artifacts. Pennsylvania's archaeological record is as diverse as its population and reflects upon our founding under William Penn as a welcoming place for freedom from religious persecution. Identifying and connecting with our ethnic origins is important as we strive to recognize our own sense of place in an ever-changing society.
The Archaeology Section of The State Museum of Pennsylvania invites you to attend the annual Workshops in Archaeology on Saturday, October 28, 2017. This program is designed to provide the public with an overview of archaeological discoveries and research being conducted in the region. Papers presented at these sessions will focus on Ethnicity in the Archaeological Record as it can be identified at farmsteads, industrial sites, religious sites and other locations in Pennsylvania. By recognizing cultural markers of preceding populations in Pennsylvania, archaeologists are better equipped to under-stand the fluid cultural landscape of our country.
For more information visit our blog to learn more: twipa.blogspot.com or the State Museum's website at StateMuseumPA.org.
Fort Hunter Archaeology
The Section of Archaeology at the State Museum will be conducting their excavation at Fort Hunter Mansion & Park between September 6th and October 6th, 2017. The public is welcome to visit and archaeologists will be on site, weekdays between 9:00 am and 4:00 pm.
This year's investigations will focus on two areas. The first is a midden area west of the milk house that was encountered in 2008 and in 2016. It consists of two layers of artifacts dating to the late 18th and/or early 19th centuries based on ceramics. Artifacts were deposited in some type of depression approximately 2.5 feet below the present ground surface. It is unclear what this represents, but it may be an early building relating to the Hunter or McAllister occupation.
The second area we plan to further investigate is a circular rock foundation, 12 feet in diameter, interpreted as the smokehouse described in an 1820's magazine article. During excavation last year we recognized an area of hydrophobic soils in the center area of this feature. Additional soil samples from this area will be gathered for specialized analysis. Additionally, further investigation of a small open ended rectangular structure on its north side, possibly a stove as described in historic documentation will be completed. The recovery of 18th century artifacts and the low density of artifacts, suggests that these are indeed the early structures mentioned in documentation. We are starting to get a better picture of the cultural landscape of Fort Hunter. Mr. Hunter and Mr. McAllister were true entrepreneurs and their stories are unfolding as we uncover the archaeological record of this fascinating and important site in the development of Harrisburg.
Visitors at Fort Hunter Mansion and Park enjoy learning about the archaeological investigation and often stop by several times a week to check on our progress. This is a wonderful opportunity to visit an archaeological site and experienced volunteers are always appreciated. Please contact Kurt Carr at (717)783-9926 or kcarr@pa.gov for additional information or to volunteer.
Indiana University of Pennsylvania (see flyer)
Archaeology Open House on Saturday, October 21st from 12-3 PM in McElhaney Hall on the IUP campus. There will be artifact displays, stone-tool making & spear throwing, bone lab & specimen tours, laser scanning, 3D printing & geophysical demos. Examine artifacts & faunal remains, try your hand at prehistoric technologies, print artifacts in 3D, view student research and more! Kids activities include hand-painting, wampum & pottery. Also enjoy complimentary archaeology-themed snacks!
Allegheny Chapter #1
Christopher Espenshade, Archaeologist, Skelly and Loy, will be presenting Palimpsests and Archaeological Interpretation: The View from 36WH1686 on Tuesday, October 3rd at 7:30 p.m. at the Michael Baker International office, 100 Airside Drive, Moon Township, PA in the first floor presentation room. Parking is free. Building is locked so please buzz the security guard to get in and sign in at the reception desk.
Skelly and Loy conducted a Phase III data recovery of the Yuhas site (36WH1686) for District 12-0 of the Pennsylvania Department of Transportation. The site was threatened by proposed improvements to I-70 in Washington County. The field methods included the excavation of 50 x 50 cm units at 7.5-m intervals, the hand excavation of 30 1 x 1 m units, and the machine-assisted removal of the plow zone from 20 percent of the site area. The spatial distributions of Late Archaic and Woodland projectile points, generalized debitage, features, and Woodland period radiocarbon dates provide a cautionary tale against equating spatial proximity with temporal concordance.
John Shrader Chapter #21
Monday October 2: Chapter member Gene Delaplane is writing a play about "The Arch Street Excavation" in Philadelphia, which is scheduled to be presented on Monday, October 2 at 2 PM in Exton, PA.
Wednesday October 4: Monthly Chapter meeting will feature Tom Lewis from CHRS, Inc., who will give a presentation on "New Perspectives with Some Current and Traditional Interpretations of Southeastern Pennsylvania Regional Prehistory," at 7 PM in the mule stable of Joanna Furnace.
Excavations will be ongoing through October on Wednesday and Saturday mornings at the Mouns Jones House in Douglassville, Berks County, PA. Members of Chapter 21 and students from a Montgomery County Community College archaeology class will be working at the site.
We will have an exhibit on archaeology at Joanna Furnace and SPA Chapter 21 at the Apple Festival to be held at Joanna Furnace on Saturday and Sunday, October 14 and 15.
International Archaeology Day will be celebrated on October 21 at the Mouns Jones site in Douglassville.
For more information contact Cathy Spohn at CSPOHN@pa.gov.
North Fork Chapter #29
Thomas N. Glover, North Fork Chapter 29 of the Society for Pennsylvania Archaeology, will present the program Review of the Johnson-Thompson Adena Mound and Cache of Burial Goods on Friday, October 20, 2017 at 7:00 p.m. at the Heritage House, 4 Sylvania Street, Brookville, PA 15825.
Excavated by Ernest Sutton in the fall of 1963, the Johnson-Thompson Adena Mound was located in Troy Township, Athens County Ohio. It was situated on top of a hill ½ mile west of the lower portion of the Hocking River and 2 ½ miles northwest of the village of Coolville, OH. The Mound contained six burials and four cremations. The central feature was a double burial of a male and female in a subfloor pit. Associated with the male burial was a cache containing points, bone awls, a gorget, whetstones, an atlatl handle, and of particular interest cut upper wolf jaws. Also associated with the male burial was a stone wall containing 618 small sandstone and limestone rocks. Also incorporated in this wall were 13 large slabs of sandstone. Four of these large slabs were worked, a narrow grooved abrading stone, a wide grooved abrading stone, an anvil stone, and a cupstone. The four worked slabs of sandstone provide an insight into the manufacturing of Adena artifacts.
There are numerous websites where you can find further information about archaeology in Pennsylvania.
SAVE THE PAST FOR THE FUTURE